*Note: When printing newspaper articles please ensure you adjust your printer preferences to the appropriate paper size ( Letter 8.5" x 11") and indicate that the picture should be "fit to size/scale to fit".
In a grassland graveyard, pupils pay tribute to Alberta's long-lost native children
Lucie Sinclair. Lizzie Devins. Charles Godin. Esther Wolf. Louisa Wolf.
One by one, the students read aloud the names of children buried in this grassland graveyard beside a dirt road marked only by two plaques erected by the government of Alberta. Then they released butterflies in the children's honour.
Read more here: http://www.theglobeandmail.com/news/national/in-a-grassland-graveyard-pupils-pay-tribute-to-albertas-long-lost-native-children/article12085870/
Canada's closets packed with skeletons
There are many stories that Canadians do not regularly learn in school.  Its history is littered with forgotten events, either deliberately overlooked, or rationalised away somehow.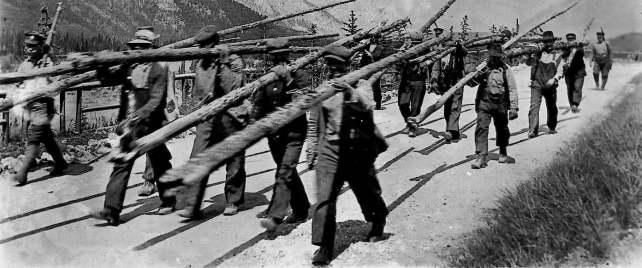 Canadians of Eastern European decent, forced to labour in internment camps.
This lacuna in our collective knowledge is not limited to events which impacted indigenous peoples.  You might reach adulthood without ever once being aware that in 1918, twelve 'enemy languages' were banned in Canada, including Ukrainian and German, and that there were periods of sharp repression even after this ban was lifted.  You might not know that 4000 Canadian citizens of Ukrainian decent were interned along with other 'enemy aliens' from 1914 – 1920 while 80,000 others were forced to 'check in' with police from time to time.
Read more here: http://apihtawikosisan.com/2012/04/18/canadas-closets-packed-with-skeletons/
Residential school era survivors tell stories
By Myles Fish – Red Deer Advocate
June 09, 2013
"Early Wednesday morning, Harry Watchmaker set out on the highway from Red Deer to Edmonton for a meeting. Not far along his journey, he looked up and saw what appeared to be two suns, one on top of the other…" Read more at:
Read more here: http://www.reddeeradvocate.com/news/Residential_school_era_survivors_tell_stories_210775731.html?mobile=true
APTN National News
June 11, 2013 
From here: http://canadiangenocide.nativeweb.org/keynewsformerministerallegesofficialskilledstudents.html
The nightmare of residential schools, CTV Online Article


Beaten to death for theft of a prune.
The Vancouver Sun, Dec.20, 1995

Claim of murder goes back to '40s: A report that a girl was killed by a residential school official has sparked an investigation.

Harriet Nahanee's account of Maisie Shaw's death, The Vancouver Sun, Dec. 18, 1995

Disturbing revelations: Native Canadian nightmares see the light of day.
The New Internationalist (Oxford, UK), Jan-Feb, 1999.

Former minister alleges officials killed students.
The Nanaimo Daily News, Feb. 9,1998

Murders alleged at residential school: NDP leadership candidate claims 2 Indians killed in Port Alberni in '40s and '50s.
The Vancouver Sun, Dec. 13,1995

Native kids 'used for experiments': A church magazine says federal health tests were conducted in B.C. and Ontario residential schools in the 1940s and '50s.
The Vancouver Sun, April 26,2000

Police told of death at residential school.
The Victoria Times Colonist, Sept. 24, 1997

Probe of Canadian residential schools to be reported at UN.
The Globe and Mail, June 20, 1998

Un panel condemns Canada's treatment of aboriginals: The human-rights report says the dealings with natives violate international law. Aboriginal leaders are quick to agree.
The Vancouver Sun, April 10, 1999

Church-school victim got no help: Native man's death blamed on stress of abuse by 'monster,' lengthy legal battle.
Vancouver Province, October 27, 1998.

15 Indian men seek millions for assaults: Rapes, beatings 30 years ago at Island residential school are the basis of a lawsuit against Ottawa, United Church.
The Vancouver Sun, February 1, 1996.

Gatherers mark school's grim litany of death.

Judge sets new limit on residential school lawsuits: The incidents predate the Charter of Rights and Freedoms, she rules, and therefore are not covered by it.
The Vancouver Sun, June 2000.

Jury Hears How 4 Indian Boys Froze to Death
Indian School Authorities Absolved in Lake Tragedy
The Vancouver Sun, January 6, 1937.

School's electric chair haunts natives.
The Globe and Mail, October 21, 1996.